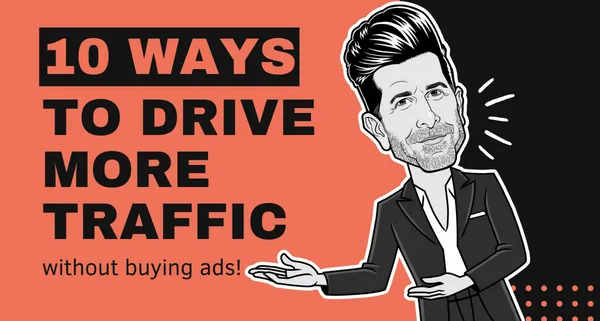 10 Ways To Drive More E-commerce Store Traffic Without Buying Ads
When you're running an e-commerce store, driving traffic to your website is essential for success. While paid advertising can be effective, it's not the only way to increase your online store's visibility. In fact, there are numerous strategies you can implement to attract more visitors without spending a dime on ads. In this blog post, we'll explore 10 effective methods to boost your e-commerce store's traffic organically.

1. Search Engine Optimization (SEO)
Investing in SEO is one of the most powerful ways to increase your website's organic traffic. Optimize your product descriptions, meta tags, and website structure to rank higher in search engine results. For expert guidance, consider hiring an experienced SEO consultant to help you navigate the complexities of SEO.
2. Content Marketing
Create high-quality blog posts, videos, and guides related to your products or industry. These pieces of content can attract and engage your target audience, driving more traffic to your website. To get started, check out some innovative small business marketing ideas that incorporate content marketing.
3. Leverage Social Media
Share your products and content on social media platforms like Facebook, Instagram, and Twitter. Engage with your audience, host giveaways, and collaborate with influencers to expand your reach without spending on ads.
4. Email Marketing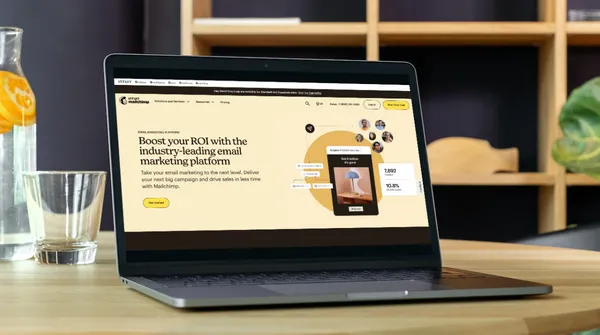 Build and nurture your email list. Send out newsletters with valuable content, exclusive offers, and updates about new products. Email marketing is a cost-effective way to drive traffic and sales.
Mailchimp offers a comprehensive email marketing platform with various features that enable businesses to build, nurture, and engage their email list effectively:
List Building Tools

Mailchimp provides customizable sign-up forms that can be easily integrated into your website or online store.
It allows you to create pop-up forms, embedded forms, and landing pages to capture visitor emails.

Email Campaigns

You can create and send newsletters with valuable content, exclusive offers, and product updates to your email list.
Mailchimp's drag-and-drop email builder makes it user-friendly, even for those without design or coding experience.

Automation

Mailchimp offers automation features like drip campaigns, welcome emails, and abandoned cart recovery. This helps nurture leads and increase conversions.

Segmentation and Personalization

Segment your email list based on customer behavior, demographics, and purchase history for targeted messaging.
Personalize emails with dynamic content, including product recommendations.

Analytics and Reporting

Track the performance of your email campaigns with detailed analytics, including open rates, click-through rates, and conversion metrics.
Use these insights to optimize your email marketing strategy.

Mobile Optimization

Mailchimp's email templates are mobile-responsive, ensuring that your emails look great on both desktop and mobile devices.

Integration

It integrates seamlessly with Shopify and WordPress, allowing you to sync customer data, product information, and more.

A/B Testing

You can run A/B tests on subject lines, content, and send times to determine what resonates best with your audience.
Mailchimp's user-friendly interface, robust features, and integration capabilities make it a popular choice for e-commerce companies looking to leverage email marketing to drive traffic, nurture leads, and boost sales.
5. Optimize Website Speed and Mobile Friendliness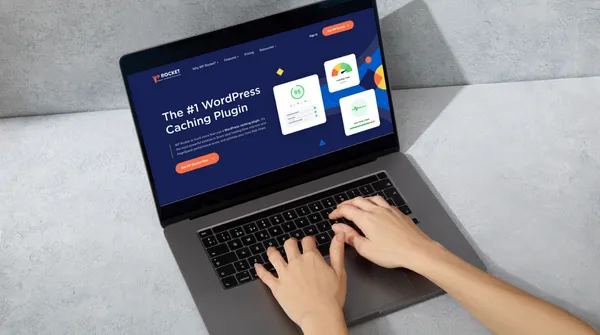 A slow-loading website can turn visitors away. Ensure your site is optimized for speed and mobile devices. Google prioritizes mobile-friendly websites in search results.
WP Rocket is a premium WordPress plugin that offers a range of features to improve website performance:
Caching

WP Rocket provides page caching, which generates static HTML pages for faster loading. This significantly reduces server response times.

Minification and Concatenation

It can minify and combine CSS and JavaScript files, reducing the number of HTTP requests and file sizes.

Lazy Loading

WP Rocket supports lazy loading of images and videos, ensuring that media content is loaded only when it's visible in the user's viewport.

Database Optimization

The plugin includes tools for cleaning up and optimizing your WordPress database, which can help speed up your website.

Browser Caching

It enables browser caching, allowing returning visitors to load your website more quickly by storing static files locally.

Mobile Detection

WP Rocket automatically detects mobile devices and serves appropriate cache versions, optimizing the site for mobile users.

CDN Integration

It seamlessly integrates with content delivery networks (CDNs) like Cloudflare, further improving site performance and global loading speeds.

Google PageSpeed Insights Integration

WP Rocket helps you integrate with Google PageSpeed Insights for performance monitoring and optimization suggestions.

User-Friendly Interface

The plugin's user-friendly dashboard makes it easy for users to configure and optimize their website's speed settings.
For Shopify, similar optimization features can be achieved using the built-in tools and apps available in the Shopify App Store. Some popular Shopify apps for optimizing website speed and mobile friendliness include "OptiMonk" for pop-up optimization, "Image Optimizer" for image compression, and "Mobile Converter" for mobile optimization.
Using tools like WP Rocket or relevant Shopify apps, e-commerce companies can effectively optimize their website speed and mobile friendliness, improving user experience and ensuring better search engine rankings.
6. User-Generated Content (UGC)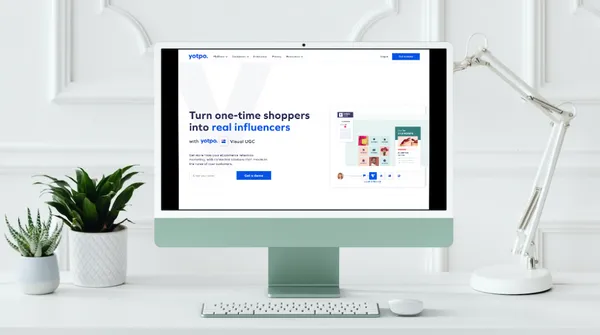 Encourage your customers to share their experiences with your products. UGC, such as reviews and user photos, not only builds trust but also attracts more visitors through word of mouth.
Yotpo is a popular platform designed to help e-commerce businesses collect and leverage UGC effectively. Here's how it can support your efforts:
Product Reviews and Ratings

Yotpo allows customers to leave reviews and ratings for your products directly on your product pages.
You can customize the review request process, prompting customers to share their experiences after purchase.

User Photos and Videos

In addition to written reviews, Yotpo enables customers to upload photos and videos of themselves using your products.
Visual UGC adds authenticity and engages potential buyers.

Q&A and Community Discussions

Yotpo provides a platform for customers to ask questions and engage in discussions about products.
Encouraging these conversations can build a sense of community around your brand.

Social Integration

Yotpo allows you to share UGC on social media platforms, extending the reach of positive customer experiences.
You can also encourage customers to share their reviews and photos on their own social accounts.

Customizable Widgets

Display UGC on your website using customizable widgets that can be integrated into product pages, category pages, and more.
These widgets showcase social proof and help build trust.

Moderation and Filtering

Yotpo offers moderation tools to ensure that inappropriate or spammy content is filtered out.
You can manage and curate UGC to maintain quality.

Email and SMS Marketing

Utilize Yotpo's email and SMS campaigns to encourage customers to leave reviews, share photos, and refer friends.
These campaigns can help generate more UGC.

Analytics and Insights

Yotpo provides analytics and insights to measure the impact of UGC on your conversions and sales.
You can see how UGC influences your customers' purchase decisions.

Integration with E-commerce Platforms

Yotpo integrates seamlessly with platforms like Shopify and WordPress, making it easy to implement and manage UGC within your existing infrastructure.
By leveraging Yotpo, e-commerce companies can effectively encourage and showcase UGC, harnessing the power of word-of-mouth marketing and building trust with potential customers.
7. Collaborate with Bloggers and Influencers
Partner with bloggers and influencers in your niche to promote your products. Their followers trust their recommendations, making it a valuable source of traffic.
8. Implement On-Site Recommendations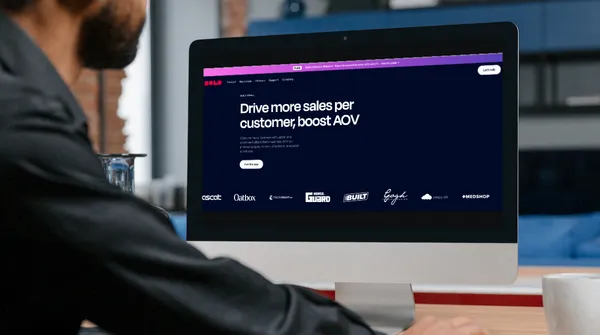 Use algorithms to suggest related products to your customers based on their browsing and purchasing history. This keeps visitors engaged and can increase the average order value.
Bold Upsell is an app available for Shopify and a plugin for WordPress that allows e-commerce businesses to create intelligent, personalized product recommendations based on customer behavior. Here's how it works:
Browsing History

It tracks what products customers have viewed or added to their cart, helping you understand their interests.

Purchasing History

Bold Upsell analyzes customers' previous purchases to suggest complementary or relevant products during their current shopping session.

Real-time Suggestions

The app or plugin generates real-time pop-ups or product recommendations based on the customer's actions, such as adding an item to their cart or viewing a product page.

Customization

You can customize the appearance, timing, and placement of the recommendation pop-ups to align with your store's design and customer journey.

Increase Average Order Value

By showing related or complementary products to customers who are already interested in your offerings, Bold Upsell encourages upsells and cross-sells, increasing the average order value.

Analytics

You can also access analytics and reports to measure the effectiveness of your recommendations and fine-tune your strategies.
Both Shopify and WordPress have integration options for Bold Upsell, making it a suitable choice for e-commerce businesses looking to implement on-site recommendations and drive higher revenue without buying ads.
9. Guest Blogging
Write guest posts for other websites in your industry, including a link back to your store. This not only establishes your authority but also drives referral traffic.
10. Regularly Update Your Content
Fresh, relevant content keeps visitors coming back. Update product listings, blog posts, and other content regularly to show that your website is active and trustworthy. Regularly updating your content is crucial for maintaining an active and trustworthy online presence. Here's how you can achieve this:
Product Listings

New Arrivals: Continuously add new products to your inventory and update product listings with detailed descriptions, high-quality images, and customer reviews.
Seasonal Changes: Rotate and highlight seasonal or trending products to keep your store's offerings fresh and relevant.
Pricing and Availability: Ensure that prices and product availability are up-to-date to avoid customer frustration.

Blog Posts

Frequent Publishing: Establish a consistent publishing schedule for blog posts. Whether it's weekly, bi-weekly, or monthly, regularity is key.
Industry Updates: Share news and insights related to your industry or niche. Discuss how these changes might affect your customers or your products.
Tutorials and How-Tos: Create informative articles or videos that help customers make the most of your products.
Customer Stories: Share success stories, testimonials, and case studies showcasing how your products have benefited real customers.

Other Content

About Us Page: Keep your "About Us" page updated with the latest company information, mission, and values.
Contact Information: Ensure that contact details are accurate and easily accessible. Include multiple communication channels like email, phone, and social media.
FAQs: Update your frequently asked questions section to address common inquiries and concerns.

Seasonal and Holiday Updates

Special Offers: Plan and promote seasonal sales, discounts, and holiday-themed content to entice visitors.
Themed Content: Create blog posts or landing pages specific to holidays, seasons, or special occasions.

News and Announcements

Company Updates: Share company news, such as awards, milestones, or changes, to show that your business is active and evolving.
By consistently updating your content, you demonstrate that your website is current, reliable, and committed to providing value to your audience. This can help retain existing visitors and attract new ones, ultimately contributing to your e-commerce success.
Conclusion
Driving more traffic to your e-commerce store doesn't always require a big advertising budget. By implementing these 10 strategies, you can increase your online store's visibility and attract more potential customers. Remember, it takes time to see significant results with organic traffic, but the long-term benefits are well worth the effort.
So, get started with SEO, create compelling content, and engage with your audience on social media. As you work to grow your online store's traffic organically, you'll build a sustainable and profitable e-commerce business.
https://vinnycarrots.com/wp-content/uploads/2023/05/10-ways-to-drive-more-e-commerce-store-traffic-without-buying-ads.webp
335
600
Vincent
https://vinnycarrots.com/wp-content/uploads/2023/05/vc-wordpress-main-logo-1-transparent-wht.webp
Vincent
2023-10-21 10:10:46
2023-10-30 08:26:23
10 Ways To Drive More E-commerce Store Traffic Without Buying Ads