How to Set Goal Values in Google Analytics
Goals allow you to measure conversions on your site and are an essential tool in Google Analytics. A goal represents a completed activity, called a conversion, that contributes to the success of your business. For example, a completed sign up for your newsletter, or if you're an e-commerce site, a completed purchase.

What type of goals can I set?
Defining goals allows Google Analytics to provide important information. Such as the number of conversions, the conversion on your site, and the ability to see which marketing campaigns generate the most conversions for your business. Without this information, it's almost impossible to evaluate the effectiveness of your online business and online marketing campaigns. Regardless of what business you're in, you'll probably find it useful to define at least two or three goals. Many businesses define many more goals.
Macro and Micro Goals
There are macro and micro goals. Macro goals correspond to the primary objectives of your site. For example, if yours is an e-commerce site, a macro goal is to sell online. Micro goals correspond to the secondary activities users often complete prior to purchasing. Micro goals are important as relationship building activities that lead up to the primary conversion. By defining macro and micro goals, you can measure the value of your website and its performance based on other means.
Conversion rates help you compare how visitors interact with different platforms, demographics, and marketing channels. In addition to conversion metrics, you'll also see Multi-Channel Funnels and Goal Flow data.
Goal Reporting in Google Analytics
Multi-Channel report
The Multi-Channels reports show you the path the visitor took, across multiple visits to your site, toward conversion. Conversion path data is generated by each goal conversion and e-commerce transaction recorded by Google Analytics. Below is a screenshot of the Multi-Channel Report.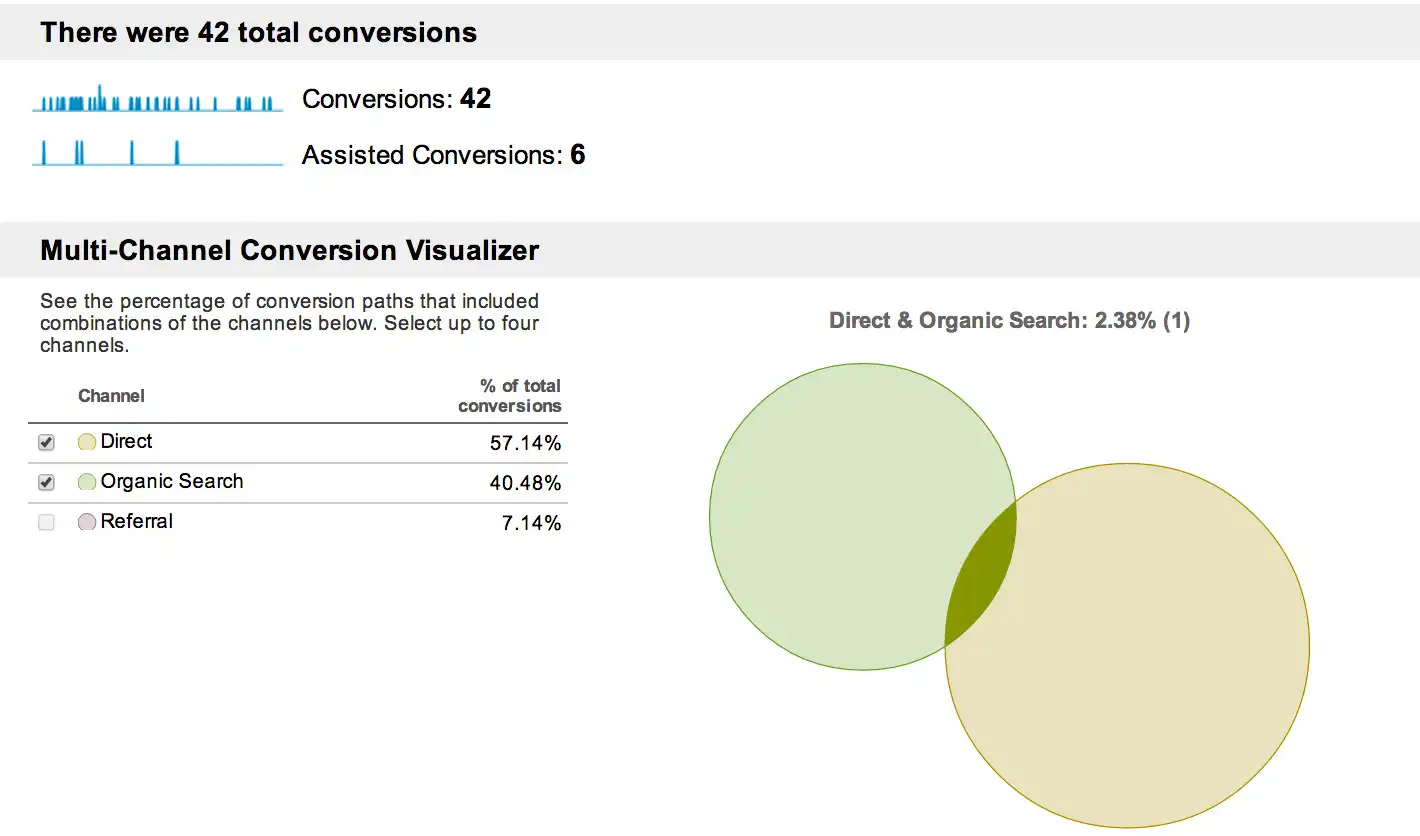 You can view this report by navigating to:
Conversions >> Multi-Channel Funnels >> Overview
from within your Google Analytics account.
Goal Flow Report
The Goal Flow report helps you visualize and identify where visitors might be having issues with an important step in a particular process – like a checkout process. Identifying and correcting problem issues can help increase the conversion rate for that particular goal.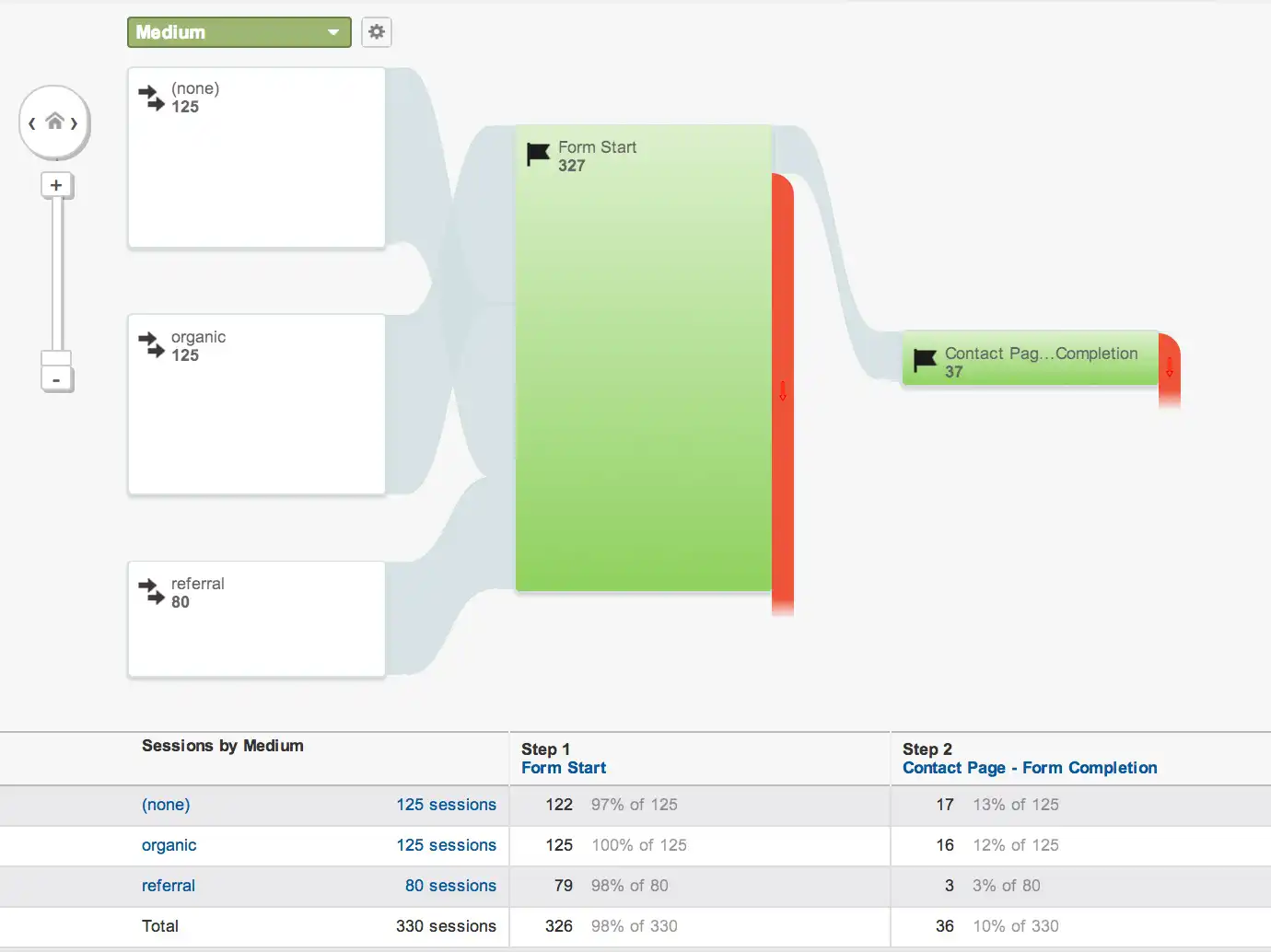 You can view this report by navigating to:
Conversions >> Goal Flow (Additionally, I like to first preview the data by Medium)
from within your Google Analytics account.
How to Setup Goal Values in Google Analytics
Be sure to set up goals for all of the important activities on your site and evaluate how effectively your website or app contributes to the success of your business. To setup goal values in Google Analytics follow these simple steps.
1. LOG-IN to your Google Analytics account.
2. Once logged in, select ADMIN from the main menu
3. Next, select GOALS
4. Next, select +NEW GOAL
5. Follow Step 1 and ENTER a Goal Description – then select NEXT STEP
6. Follow Step 2 and ENTER the Goal Details
7. You can test your Goal before completing it by selecting VERIFY THIS GOAL
8. Then select CREATE GOAL to complete
I would strongly suggest testing out your Goal after it is created to be sure that you properly configured it. Once tests complete and you have verified it is working correctly I would strongly suggest that you block your company's internal IP address to block any inflated reporting or tests internally.
https://vinnycarrots.com/wp-content/uploads/2011/11/google-analytics-consultants.webp
686
1030
Vincent
https://vinnycarrots.com/wp-content/uploads/2023/05/vc-wordpress-main-logo-1-transparent-wht.webp
Vincent
2014-06-17 00:00:39
2023-03-11 19:48:51
How to Set Goal Values in Google Analytics